The EHL
EASTERN HOCKEY LEAGUE
SCORES & STANDINGS
1964-65 Season
1964-65
(INCOMPLETE)

EXHIBITION


REGULAR SEASON


October 14, 1964 Wednesday
New York 1 at Johnstown 5
-Dick Roberge slammed in two goals Wednesday night in pacing the Johnstown Jets to a 5-1 victory over the New York Rovers in the Eastern Hockey League opener for both teams. Joe Daley had 38 saves for Johnstown.

Jersey 2 at New Haven 4
- Gaston Bouchard. Jerry Maney and Don Bamburak all scored once for New Haven in the final period.

October 15, 1964 - Thursday

October 16, 1964 - Friday
Nashville at Clinton

October 16, 1964 - Friday
Jacksonville at Clinton

October 17, 1964 - Saturday
New Haven at Johnstown

October 20, 1964 - Tuesday
Greensboro 5 at Charlotte 2
- Garry Sharp scored two goals for Greensboro last night as the Generals beat the Charlotte Checkers, 5-2, in an Eastern Hockey League game. Bill Armour, Dan Blair and Gary Watts scored one goal each for Greensboro. Moe Savard scored twice and Jim McNulty once for Charlotte. Greensboro is now 2-1; Charlotte is 0-3.

Long Island 3 at New York 1
- The Long Island Ducks had superb goaltending from 20-year-old Andre Dauost as they skated to a 3-1 victory over the Rovers at Madison Square Garden last night. Gene Achtymichuk and Capt Ed. Stankiewicz netted for the Ducks in the first period. Stankiewicz hit again in the middle session for a 3-0 lead. Trevor Fahey spoiled Daoust's shutout bid midway through the third period.
October 21, 1964 - Wednesday
Johnstown at Clinton

October 23, 1964 - Friday
New York 2 at Jersey 5
- WayneCaufield scored two goals and set up another for Art Hart last night as the Jersey Devils defeated the New York Rovers, 5-2, in an Eastern Hockey League game.The other Jersey goals were scored by Art Chiupka and Reggie Meserve. Trevor Fahey and Ken Block accounted for the New York goals.
Clinton at Johnstown

October 24, 1964 - Saturday
New Haven at Clinton
New York at Johnstown

October 28, 1964 - Wednesday
Long Island at Johnstown

October 31, 1964 - Saturday
New York at Clinton
New Haven at Johnstown
November 4, 1964 - Wednesday
Clinton at Johnstown
November 7, 1964 - Saturday
New Haven at Clinton
Long Island at Johnstown

November 13, 1964 - Friday
Long Island at Clinton

November 14, 1964 - Saturday
Jersey at Clinton
New Haven at Johnstown

November 18, 1964 - Wednesday
Clinton at Johnstown

November 20, 1964 - Friday
Johnstown at Clinton

November 21, 1964 - Saturday
New Haven at Clinton
Jersey at Johnstown

November 25, 1964 - Wednesday
Jersey at Clinton
Long Island at Johnstown

November 26, 1964 - Thursday
Jersey at Johnstown

November 28, 1964 - Saturday
New York at Clinton

December 2, 1964 - Wednesday
Clinton at Johnstown

December 5, 1964 - Saturday
Jersey at Clinton
Nashville at Johnstown

December 6, 1964 - Sunday
Clinton at Johnstown

December 12, 1964 - Saturday
New York at Clinton

December 19, 1964 - Saturday
Charlotte at Johnstown

December 20, 1964 - Sunday
Clinton 4 at Jersey 3 (OT)
- Pete Babando scored a goal with 40 seconds left in a 10-minute sudden death overtime yesterday to.give Clinton a 4 3 victory over Jersey in an Eastern Hockey League game at the Cherry Hill Arena. Jersey had tied the game with 41 seconds left in regulation play on a goal by Rudy Filion. Bill Glashan accounted for two earlier Clinton goals and Dave Armstrong the other. The other Jersey goals were scored by Gary Watts and Pat Donnelly.

December 26, 1964 - Saturday
Jersey at Clinton

December 27, 1964 - Sunday
Long Island at Johnstown

December 30, 1964 - Wednesday
Johnstown at Clinton

December 31, 1964 - Thursday
New Haven at Johnstown

January 2, 1965 - Saturday
New Haven at Clinton
Jersey at Johnstown

January 8, 1965 - Friday
New York at Clinton
Long Island at Johnstown

January 9, 1965 - Wednesday
Long Island at Clinton
New York at Johnstown

January 15, 1965 - Friday
Johnstown at Clinton

January 16, 1965 - Saturday
Greensboro at Clinton
Long Island at Johnstown

January 17, 1965 - Sunday
Jacksonville at Johnstown

January 20, 1965 - Wednesday
Long Island at Clinton

January 22, 1965 - Friday
New York at Johnstown

January 23, 1965 - Saturday
New York at Clinton
Jersey at Johnstown

January 29, 1965 - Friday
New Haven at Clinton

January 30, 1965 - Saturday
Long Island at Clinton
Jersey at Johnstown

February 5, 1965 - Friday
New York at Clinton

February 6, 1965 - Saturday
Jersey at Clinton
New Haven at Johnstown

February 12, 1965 - Friday
Jersey 4 at New York 3 (at Syracuse)
- First of a 3-games-in-3-nights round-robin between the Devils, Rovers and the independent Syracuse Stars for the Triangle Trophy.
- Art Chiupka and Reggie Messerve powered the Jersey team to victory last night in the final league clash of the season between the teams. It was a home game for the Rovers which was switched to Syracuse from Madison Square Garden. Chiupka scored two goals in the second period and moved Jersey in frint to stay. Meserve assisted on both tallies and also set up Harvey Turnbull who scored the winning marker in the third period. Bert Smith netted the first Jersey tally after Bob LeDuc had put the Rovers in fornt at 4:42 of the opening session. Jean-Pierre LaFond and Trevor Fahey got the other goals for the Rovers. The Devils ended their season series against the Rovers with six wins, 2 losses and 4 ties and moved 14 points ahead of the New Yorkers for forth place in the Northern Division.
- Attendance: 1000
Long Island at Clinton
New Haven at Johnstown

February 13, 1965 - Saturday
New York at Clinton
Greensboro at Johnstown

February 17, 1965 - Wednesday
Jersey at Clinton

February 20, 1965 - Saturday
Knoxville at Clinton
New York at Johnstown
February 21, 1965 - Sunday
Jersey at Johnstown

February 24, 1965 - Wednesday
Clinton at Johnstown

February 26, 1965 - Friday
Johnstown at Clinton
February 27, 1965 - Saturday
New Haven at Clinton
Jersey at Johnstown
March 3, 1965 - Wednesday
Long Island at Clinton
Knoxville at Johnstown

March 6, 1965 - Saturday
Charlotte at Clinton
New York at Johnstown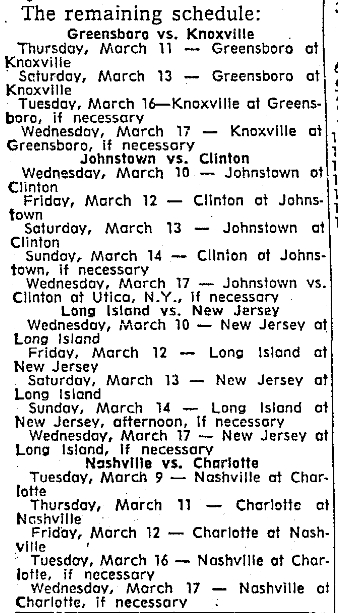 First Round - Best of 5
Greensboro Generals vs Knoxville Knights
First Round - Best of 5
Charlotte Checkers vs Nashville Dixie Flyers
GAME 1

Sunday - March 8, 1965
Knoxville 3 at Greensboro 4 OT
(Greensboro leads Series 1-0)
GAME 2

Thursday - March 11, 1965
Greensboro 4 at Knoxville 7
(Series tied 1-1)
GAME 3

Saturday - March 13, 1965
Greensboro 4 at Knoxville 5
(Knoxville leads Series 2-1)
GAME 4

Tuesday - March 16, 1965
Knoxville 3 at Greensboro 4 OT
(Series tied 2-2)

GAME 5

Wednesday - March 17, 1965
Knoxville 3 at Greensboro 2
(Knoxville wins Series)
First Round - Best of 5
Jersey Devils vs Long Island Ducks

First Round - Best of 5
Clinton Comets vs Johnstown Jets
GAME 1

Wednesday - March 10, 1965
Jersey 4 at Long Island 5
Long Island leads 1-0
GAME 2

Friday - March 12, 1965
Long Island 1 at Jersey 3
Series tied 1-1
GAME 3

Saturday - March 13, 1965
Jersey 1 at Long Island 6
Long Island leads 2-1
GAME 4

Sunday - March 14, 1965
Long Island 4 at Jersey 3 OT
Long Island wins series 3-1
Second Round - Best of 5
Nashville Dixie Flyers vs Knoxville Knights
Second Round - Best of 5
Clinton Comets vs Long Island Ducks
GAME 1

Friday - March 19, 1965
Clinton 0 at Long Island 3
Long Island leads 1-0
GAME 2

Sunday - March 21, 1965
Clinton 1 at Long Island 2 OT
Long Island leads 2-0
GAME 3

Tuesday - March 23, 1965
Long Island 1 at Clinton 3 (Utica)
Long Island leads 2-1
GAME 4

Wednesday - March 24, 1965
Long Island 1 at Clinton 4 (Utica)
Series tied 2-2
GAME 5

Thursday - March 25, 1965
Long Island 4at Clinton 2
Long Island leads 3-2
GAME 6

Friday - March 27, 1965
Clinton 0 at Long Island 3
Long Island leads 2-1
Finals - Best of 7
Nashville Dixie Flyers vs Long Island Ducks
GAME 1

Tuesday - March 30, 1964
Long Island 0 at Nashville 5
(Nashville leads Series 1-0)
GAME 2

Thursday - April 1, 1964
Nashville 5 at Long Island 0
(Series tied 1-1)
GAME 3

Saturday - April 3, 1964
Nashville 1 at Long Island 3
(Long Island leads Series 2-1)
GAME 4

Sunday - April 4, 1964
Nashville 3 at Long Island 5
(Long Island leads Series 3-1)

GAME 5

Wednesday - April 7, 1964
Nashville 1 at Long Island 3
(Long Island Wins Championship 4-1)